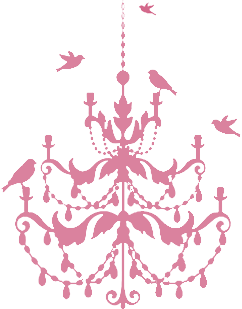 Welcome to Paisley Petunia…part two!
I find inspiration in pretty pictures, endless possibilities in a bowl of Meyer lemons, the meaning of lifetime devotion in the wagging tails of our 3 rescue dogs, end-of- the-day bliss in a glass of red wine and now, the boundless, soul clutching meaning of life in the faces of my 2 little angels.
It's a happy, creative, joy-full life we've got here in the LA sun. Come play! Bring wine.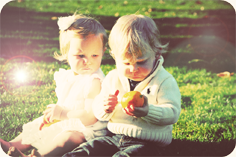 Thursday, October 29, 2009
It's almost food season (not that in my life it's ever not food season) but you know it's probably more food season around the holidays (I literally dream about mashed potatoes and pumpkin pie, seriously no joke.) Anyway, what a great time to get a little exercise routine going so that come January 1 you're ahead of the resolution curve.
My trainer for the last 2 years, Susan Hyatt, has just released her own DVD- Rockstar Workout. Since I was the guinea pig for many of these moves and sequences, I can personally attest to the fact it is a *killer* workout. The DVD has a cool shuffle feature so you mix up the workout every time you do it. Plus Susan is a recording artist who has played with the likes of Duran Duran and the Go-Gos so the DVD has cool, original music. Not only has my body changed but I feel so much healthier overall.
Susan was kind enough to share one of her signature moves with you guys- The Terminator. This is a workout in an exercise because even if you only have 10 minutes this one move will maximize the calories burned and target almost every trouble area. It can be modified for beginners or if you're hardcore go for 3 sets of 10. Be sure you do a twee bit of warm-up (like marching in place or light jump roping) before you start. And of course, never start a new exercise program without talking to your doctor first.
1. Start in Plank Position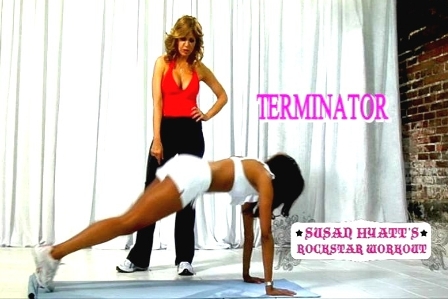 2. Next Move is Mountain Plank
(Lunge with Right Leg forward and then Lunge Left Leg forward)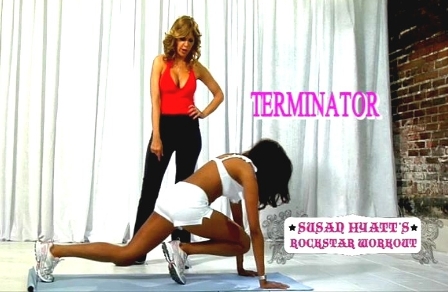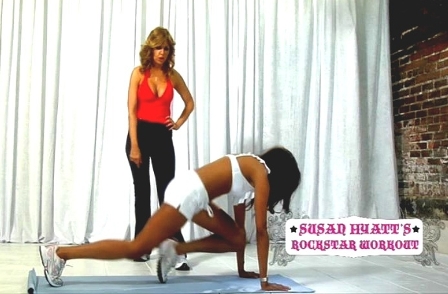 3. Do a Single Pushup (not shown)
4. Jump Both Feet Forward and do a Squat Jump – (Jump up High and Simulate Shooting a Basket)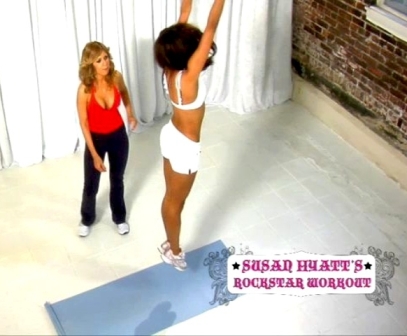 5. Squat Down Jump Both Legs Back into Plank Position and Repeat
3 Sets of 10 will Burn Up to 100 Calories. Rest in between sets between 1 – 2 minutes depending on Heart Rate. Beginners start with 3 sets of 5
PLUS: because we love you guys so much and assume you guys love pie as much as we do; Susan has given us a DVD for a giveaway.Just comment on the post and next Friday, Nov 6 at 12:00 p.m. PST we'll draw a winner and share the burn with you.
PS: I'm not being compensated for saying any of the above information! I'm an actual user and fan!

Posted by c at 9:21 AM 12 comment