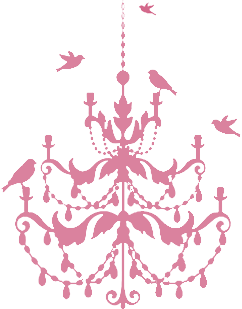 Welcome to Paisley Petunia…part two!
I find inspiration in pretty pictures, endless possibilities in a bowl of Meyer lemons, the meaning of lifetime devotion in the wagging tails of our 3 rescue dogs, end-of- the-day bliss in a glass of red wine and now, the boundless, soul clutching meaning of life in the faces of my 2 little angels.
It's a happy, creative, joy-full life we've got here in the LA sun. Come play! Bring wine.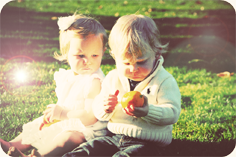 Tuesday, November 24, 2009
Tis the season to be thankful – for love, family, health. It is also a time to give back and to help others.
Today I want to share a very special, heartwarming story with you, as told by my very talented writer/photographer/traveler friend (and proud Auntie), Gina.
* * *
In the third month of her first trimester, my sister learned that she was carrying a little girl with a cleft lip.  Though intellectually we all knew that a million things could go wrong with any pregnancy, when news came that with my sister's something had gone wrong, we were understandably shocked and–admittedly– heartbroken. Shock though soon turned into acceptance and heartbreak was eased through education. To settle my anxieties, I made it my task to learn everything the internet would teach me about cleft lip and palate. My first google search produced a link to SmileTrain's site and familiar with the organization's infomercials (which in all honesty used to make my stomach turn a little), I clicked.
One year after first visiting Smile Train's website, I made plans to visit a SmileTrain field site while traveling in Asia. Newly invested in SmileTrain's plight, and with new knowledge that South Asia has an especially high incidence of cleft, I decided that my upcoming trip to India afforded an excellent opportunity to see how the organization operates abroad. ?Greeted at the entrance of the Jaipur hospital by a team of white-coats—chief among them, chief-of-staff Dr. Gupta, who has personally performed over 4,000 cleft surgeries since their Smile Train partnership in 1996—I was ushered through dimly lit hallways on a tour of the facility. The tour culminated in the recovery room where I met the families of four new recipients of cleft repair surgery. I spoke no Hindi, the families no English, but I managed to introduce myself to the mothers and shared with them photos of Abby before and after her own repair surgery; "my niece," and pointing to my own lip, "was born like your son." Though we shared very little in common, we shared this, and this one connect bridged the gap in language, heritage, and economics, putting an audibly quiet room a little more at ease.
Dr. Gupta interrupted introductions to ?invite me to observe surgery, and for reasons unbeknownst to my weak-stomach, I agreed. I was handed a cup of chai and a pair of freshly starched scrubs, and within minutes I walked straight into the middle of a cleft palate repair. The small form on the gurney was two-year old, Priya. The surgeon, Dr. Bahat, talked me through his work as he sliced and stitched soft palate tissue. With his last suture and another surgery to his credit, Bahat spoke approvingly of his work: "she will be able to learn to speak and eat properly now." An hour and another chai tea later, a new patient was prepped in the OR; this time a 25 year old man, who 24 years earlier had a botched cleft repair surgery and had only recently learned about Smile Train's services. More than 28% of SmileTrain's operations are secondary surgeries to correct failed first operations, which are commonly acquired from local doctors who have little to no experience with this type of procedure. An air-conditioning mechanic, Hassib Mohamed admittedly led a reclusive existence and so upon learning of his eligibility for a Smile Train procedure, he traveled over 10,000 km to Jaipur to receive surgery.? Hassib's family was able to be by his side during the recovery process due to donor contributions, which cover travel expenses for the family in addition to the medical costs. The inability to pay for travel expenses is one of the primary reasons why children do not receive corrective procedures; SmileTrain recognizes this hindrance, and focuses funds to eradicate it.
In speaking with Hassib's family, they expressed not only their gratitude for Hassib's surgery but also stressed their greater gratitude for the fact that now, " Hassib will have the chance to marry." I posed the same question that I asked Hassib's family to the families of the other patients in recovery: "how does life for your child change now?" Though they all conceded that their child would be taunted less by their peers and could now receive an education, the potential to marry was seen as the overriding benefit promised by cleft repair surgery. Left untreated, a cleft lip makes marriage a difficult, if not impossible, prospect; in India, where marriage is regarded as a social and cultural obligation, a cleft lip or palate renders a life deficient. To this end, the doctors are not only correcting smiles, they are repairing the dreams of a mother for her son, the chance for a daughter to meet the expectation of her family and community. With a simple surgery, these children—and children born like them in San Francisco, in Seoul, in San Salvador—will make friends, will be able to speak, will learn, will not become the social pariahs that their birth-defect, left untreated, would have most certainly guaranteed.
Though they were comfortable, and though I was surprisingly comfortable in them, my day in blue scrubs drew to a close. With palms pressed in prayer and a soft "shukria," I thanked the surgeons for welcoming me into their O.R., for the chai, for the work they do. As I walked down the dimly lit hallway towards the exit, I reflected on my day and on journey that brought me to Jaipur. I thought of Abby, of a diagnosis that initially prompted grief and anxiety, which I now regard as a blessing. Abby's condition introduced me to a movement in which I have become deeply invested. That Abby's cleft would be repaired was never a question; it was a matter of how soon, not a matter of how. But her beautiful smile reminds me of the many children without the means to receive the assistance they need to lead productive lives. In the developing world, approximately 1 in 600 children are born with a cleft lip and/or palate each year, most to families too poor to afford corrective surgery. SmileTrain's aim is simple: repair these children's futures, one cleft at a time. For as little as $250, a child can receive a corrective surgery, and with it, a second chance at life.
I exited the relative calm of the hospital and stepped into the sublime chaos of India, a country whose sights, sounds, and scents are oftentimes as abrasive and foul as they are stunning and sweet. I'm simplifying when I say, India is the type of place that makes you want to be a better person. It also makes you realize that there aren't many problems out there with simple solutions; cleft lip repair, however, is one of them—and that makes me smile.
* * *
Abby is an adorable, happy toddler, anxiously awaiting the arrival of her baby sister next year. Gina's family has embraced Smile Train whole heartedly and for Abby's birthday, in lieu of gifts, they asked for donations to help pay for other children's surgery. Visit their website www.smiletrain.org to learn more about how you can get involved in volunteering or to donate.
You can learn more about Smile Train as illustrated in the Academy Award winning documentary, Smile Pinki.
Thank you, Gina, for sharing your story with us.

Posted by s at 12:08 PM 5 comment